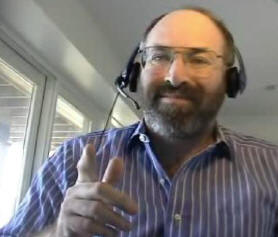 Here's What You Need for a Remote Session
You need an IBM-compatible personal computer running Windows XP SP2 or later, connected to a VGA projector. You probably already have this.
My voice will come to you over the computer's audio channel, so the computer needs to be connected to some sort of speakers that your attendees can hear, such as a PA system. Sometimes your venue will have this built in; other times you will have to get something on your own. If your attendees can hear the Windows startup song, they can hear me OK.
I need to hear you, too. So you'll also need a microphone plugged into the PC's regular microphone channel. It's hard for me to hear individual queries from the audience, so someone will need to act as moderator, relaying questions from the audience to me via this microphone.
For the best results, I need to see the audience. I've done it without, and can do it again if that's all you have, but it's a whole lot better with even the most rudimentary of cameras. You'd be surprised how much information can be gleaned from silhouettes. Any old web cam is probably OK, such as the Logitech Quick Cam for Notebooks ($40 list, $30 street). Don't go out and buy one or even rent one, but a good digital camcorder such as the Canon Optura ($300-$600) is not at all an unusual thing for people to have, especially proud parents or grandparents. Plugging one of these into your computer's USB port as a webcam will allow me to see you better. If you happen to have one lying around, you might as well use it. You'll probably want to mount it on a tripod.
We don't need to do remote desktop sharing, which is often problematical. Instead, I'll email you my PowerPoint presentation, and the moderator will run it on your local machine. You can use the full version of PowerPoint (2002 version or later) if you have it. If not, you can use Microsoft's free PowerPoint viewer (available at this link).
You will need software for the video connection. My first choice is SightSpeed, available free at this link. Alternatively, you can use Skype video, available free at this link. I've had better luck with the former, although occasionally you run into a weird firewall/port situation that dictates the latter. I'll send you my IDs when we schedule the talk. I don't want to post them here where the spam spiders can slurp them up.
Finally, you will require some sort of broadband connection for the link to run over. A consumer quality DSL or cable modem is usually sufficient. You will test this link with my system at some convenient time before the talk runs. The moderator should have a separate telephone, such as a cell, in case we encounter trouble.
This list may sound a trifle long, but if you add it up, it's not very much at all. I've provided a summary checklist below. I look forward to speaking to your group. Call today to schedule yours!
Hardware:
Windows PC, with projector, speakers, microphone, and webcam
Broadband Internet connection, consumer-grade DSL or cable (or better)
Software
Windows XP SP2 or Windows Vista
Microsoft PowerPoint 2002 or later, full version or free viewer
SightSpeed or Skype video telephone software